I
t seems that the fashion industry has finally woken up.
Gucci's scrapping fur
; Russian entrepreneur
Miroslava Duma
is investing $500m (£379m) in sustainable innovations in textiles, such as leather that can be grown in a lab and silk spun by spiders. During
Milan fashion week
, the glitziest party of the week was the Green Carpet awards hosted by
Livia Firth
to celebrate the Italian fashion supply chain. And Matches Fashion recently announced it will be partnering with Firth's consultancy firm Eco-Age "with the aim of placing sustainable and ethical practices at the heart of what it does".
The problem with a lot of so-called "ethical" fashion brands is that, ultimately, they are producing more stuff we could all happily live without, thank you very much. And many of the brands who put sustainability first often overlook the fact that a product must be desirable, too. You have to want to wear it.
But in 2004, with just €5,000 and equal amounts of idealism and naivety, Sébastien Kopp and his business partner François-Ghislain Morillion, both just 24 at the time, set out to reinvent one of the most everyday, functional items, the trainer. When they launched their brand, Veja (which means "look" in Portuguese), "The aim was to reinvent a sneaker from A to Z," says Kopp on the phone from his office in Paris.
Veja trainers are designed in the classic mould of minimal footwear. Simple, with a white base and a squash shoe-style sole, they arguable pre-empted the white minimalist trainer explosion of the last few years.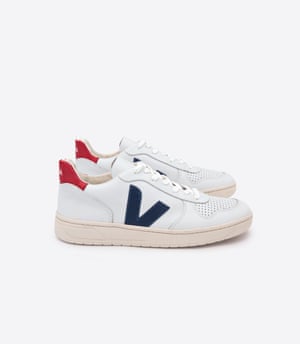 Wired called the shoes "the coolest sustainable sneakers we've ever seen". When H&M's newest retail brand Arket opened its doors on London's Regent Street in September, the appearance of Veja's £95 trainers signified that this was a business with a slightly different remit – one where the labels hint at a more transparent supply chain, and the jumpers are made from recycled cashmere. Veja have become the holy grail – a sustainable fashion brand that doesn't look like one.